The Scholé House offers online courses in the humanities and theology for secondary and adult students. Courses are focused on rich content around which students and teacher can gather in curiosity, humility, and a desire to grow in love and knowledge.
Scholé (pronounced skoh-LAY) is a learning philosophy within the tradition of classical education. Scholé prizes delight-filled, focused time to learn and grow. Scholé rejects rushed, high-stakes and shallow studies in favour of restful, deep, and attentive learning. Scholé is committed to seeking truth, goodness, and beauty and the study of the liberal arts and great books.
See below for class descriptions and registration links
Classes are available to take live or self-paced. Self-paced classes are recordings of the live sessions, allowing the students to view on their own time. Because classes are discussion based, students choosing the self-paced option will have access to a class forum where they can participate in asynchronous discussion threads. Students choosing to take a live class will also have access to recordings and discussion threads. 
Because classes are highly-interactive, students are required to turn on their videos for the duration of the class and function as full participants in class. Students should have access to a computer or laptop (rather than a phone) with a quality camera and microphone for Zoom access. In case of circumstances in which a student cannot attend a class, please notify the instructor before missing class.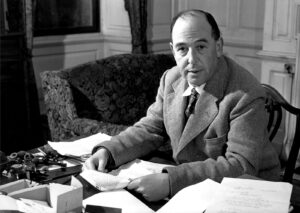 Literature of C.S. Lewis
C.S. Lewis is one of the most prolific and well-regarded writers of the 20th century. With writings ranging from fiction, children's literature, fantasy, science fiction, criticism, theology, and apologetics, Lewis offers a literary and intellectual feast. In this course we will read and discuss several of his major works along with a few essays, considering specifically the themes of desire (or Sehnsucht), imagination, and objective truth v. relativism that run throughout his writings.
Past Syllabus
Next Offering: TBA
To register interest in this class, please fill out this form.